Preparing for Increase
Last Updated on Thursday, 6 May 2010 12:27
Written by Delaine Allen
Monday, 4 January 2010 09:01

---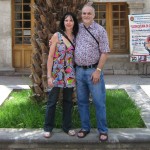 It's time to prepare for the increase that we desire.
It's time for a release of the glory. It's also time to have manifestations… in so many things in life. I've been seeking the Lord and waiting before Him for direction?on how to?advance.? I've also been examining every area and domain of my life to understand what is required for advancement in each area, and to find out if I'm blocking my own progress in any way.
One thing the Lord told me this morning is to simply prepare for it. We know this, but some things can slip along the way. "Hope deferred makes the heart sick", and a sign that that's happening is?weariness subtly setting in. We may lose our edge, becoming tired and just waiting for God to do something, all the while praying for His will to be done. In other words, we're deceiving ourselves!?It takes the Spirit of God to point out exactly where we've become tired and slacked off and to breath His freshness?on those areas of?our soul. He shows us what adjustments to make. These may even be very small adjustments that will yield big changes if we're consistent about doing them.
For myself, there are areas of study to work on daily.? I'm studying on the glory and light of God; on soaking in the attributes of His nature; studying past revivals and revivalists; studying for a class. This means putting?study?ahead of some other things, daily. Having the books and scripture lists at the ready doesn't mean that I've actually followed through and done the work. There are certain prayer commitments that need to be followed through on, daily. There are practical things to do for spiritual advances, financial and physical changes, among other things. All of these come from an attitude of expectation. If we expect, we will prepare.?A friend shared last week on how she is preparing for the return of prodigals within her family. She purchased Bibles for each of them, wrote the names inside the cover, and is waiting expectantly to give those Bibles to each one as they come to the Lord.
Jesus said, "If you abide in Me, and My words abide in you, ask whatever you wish, and it will be done for you. My Father is glorified by this, that you bear much fruit, and so prove to be My disciples." (John 15:7-8) Most of us know that we are to bear the fruit of the Spirit as illustrated in Galatians 5. But here in this scripture, Jesus makes it clear that bearing fruit means to have some manifestations, the same kind of manifestations that Jesus had. He proved by His works of power that He came from the Father. We're are to prove by manifestations that we're His disciples. How can we say we're His disciples if we don't do the same things He did. Our expectation should be affected by reading these words. Then, beyond just knowing that we're supposed to do His works, we need to know how to do that, and do it consistently. Part of doing that is just to study who the Lord is. If we're transformed by looking into His glory (2 Cor. 3:18), I should at least give attention to studying who this Glorious One is.
So let's prepare for the manifestations we desire. Ask God about any changes that you can make to prepare for what He wants to do.
Tags:
believing
,
Christ
,
confidence
,
contemplative prayer
,
faith
,
glory
,
God
,
Holy Spirit
,
Jesus Christ
,
prayer
,
presence of God
,
return of the prodigals
,
revelation
,
revival
,
spirit
,
Word of God