Father of Lights
Last Updated on Thursday, 6 May 2010 12:26
Written by Delaine Allen
Wednesday, 6 January 2010 11:50

---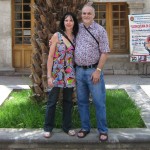 I'm sure that you are, just as I am, seeking the Lord about how to accomplish the dreams and desires that He has placed in our hearts. How do we have the manifestations that we are looking for? Do you ever get to that place of frustration where you've…?carried something inside long enough and, finding no opening for manifestation, you could almost throw in the towel and give up? But yet you know that you can't do that. Somehow, the promise must be fulfilled.
Of course, God?doesn't?want you to give up. In times like these, He not only wants you to stand firm, but if you?are attentive He would also teach you something about the substance of His nature that would open the way of victory to you.
God has directed me to begin to study various aspects of His nature and character. We know that the Word of God is alive and powerful. We also know that Jesus, Himself, is the living Word.? Therefore, we can see that the Word of God reveals the very substance of the Father's nature. If we ingest the Word with this understandig, we will begin to see things from a new perspective – the way that Jesus saw them when He walked the earth. I believe this is the major key to doing the works of Jesus (and the greater works He spoke of in John 14:10). This is how He had total authority over the elements.
So, the other morning I came upon James 1:17. "Every good thing given and every perfect gift is from above, coming down from the Father of lights, with whom there is not variation or shifting shadow." God has every good and perfect thing for us, coming from?the heavenly realm where they have been ordained and designed. This scripture also holds a secret to receiving these good and perfect gifts.?Do you notice that it calls Him the "Father of lights"? God doesn't make any mistake about the way He expresses Himself. So what does this mean?
"Father of lights" is spoken of in the same way the "Father of spirits" is spoken of in Hebrews 12:9 "…shall we not much rather be subject to the Father of spirits, and live?" As the "Father of spirits", He is our Source, the One who give us spiritual life. Only by submitting to Him, do we live in everlasting life. So also, we are the "lights" that He is Father of. "God is light, and in Him there is no darkness at all". We are the lights that He is the Light of.? "You are the light of the world. A city set on a hill cannot be hidden."
There are many scriptures that we could look at, but for now we will just focus on the fact that light includes revelation and comprehension. The good and perfect gifts from above are well-received by revelation of them from our Father in heaven. They have their source in Him. Standing firmly and expectantly will give way for manifestation.
Tags:
believing
,
blessing
,
Christ
,
confidence
,
dreams
,
faith
,
Father of lights
,
God
,
God is light
,
Holy Spirit
,
Jesus Christ
,
kingdom of God
,
light of the world
,
promises of God
,
revelation
,
sons of God
,
spiritual authority
,
Word of Faith
,
Word of God
,
Word of God is alive and powerful